Te Runanga o NgaiTakoto Tangihanga support was established in January 2018. The overall aim of NgaiTakoto Tangihanga support is to assist our NgaiTakoto whanau during this time of bereavement and / or financial hardship.
Tangihanga support are available to all members of NgaiTakoto descent who are registered with Te Runanga o NgaiTakoto.
Funeral Grant Criteria:
Te Runanga O NgaiTakoto Tangihanga support are open to NgaiTakoto Members residing in New Zealand Only, To be eligible all applicants must fulfil the following criteria:
• Be registered to Te Runanga o NgaiTakoto.
• Must complete an application for and return with any supporting documentation
• Deceased must be returning to one of four NgāiTakoto Marae: Te Paa A Paroro, Waimanoni, Wharemaru o Kaimaumau, Mahimaru.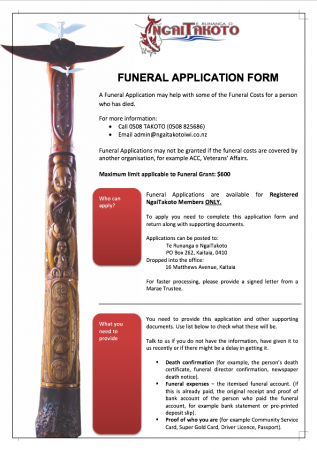 Download an application here