SCHOLARSHIP FUNDING
TE RUNANGA O NGAITAKOTO SCHOLARSHIP APPLICATIONS ARE OPEN!
Applications are open and close November 2018.
Te Runanga o NgaiTakoto scholarships were formed in 2012. The overall aim of NgaiTakoto Scholarships is to assist NgaiTakoto beneficiaries to fulfil their potential for academic success, and encourage applicants to contribute their skills towards the wellbeing and betterment of NgaiTakoto whanau, hapu and Iwi.
Scholarships are available to all students of NgaiTakoto descent who are formally enrolled in a approved university/polytechnic/institute of technology/Wananga/private training establishment and registered with Te Runanga o NgaiTakoto.
Scholarship Criteria:
Te Runanga O NgaiTakoto Schoarships are open to NgaiTakoto Members residing in New Zealand Only, To be eligible all applicants must fulfil the following criteria:
• Be registered to Te Runanga o NgaiTakoto – a 6 month stand-down period is required for new Iwi registrations.
• Must complete all compulsory sections of this form and sign the Declaration.
• Provide all required documentation.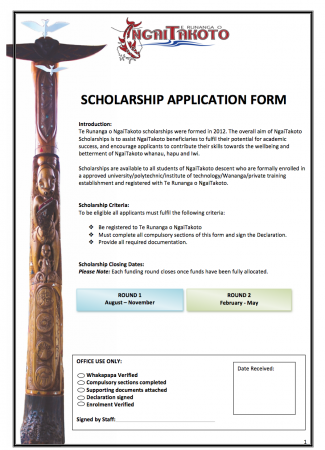 Download an application here
Send completed registration forms by post to:
Te Runanga O NgaiTakoto 
PO Box 262 
Kaitaia, Northland 0410 
New Zealand
Or drop into our Office:
16 Matthews Avenue, 
Kaitaia, 
Northland